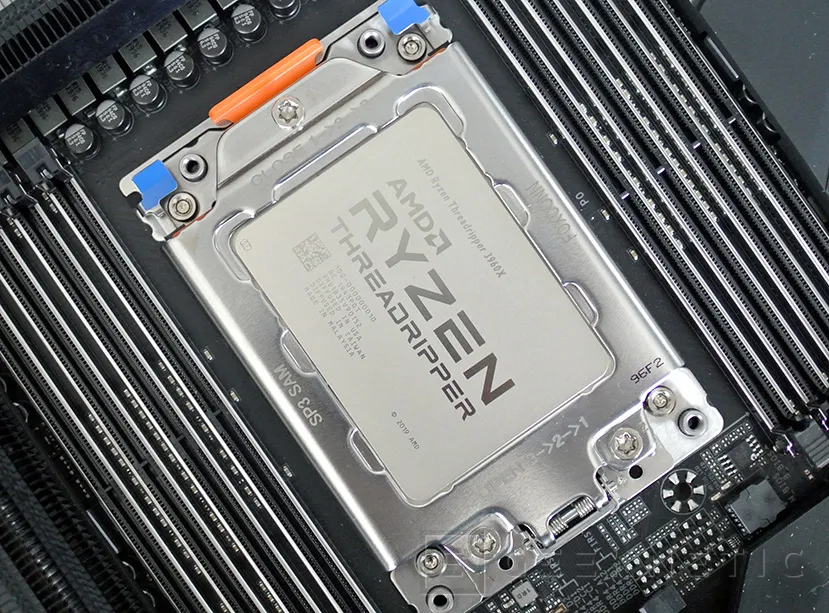 AMD Ryzen Threadripper 3960X – Review, Specs and Benchmarks:
KEY FEATURES:
Frequency: 4.5 GHz (Turbo Core)

Cores: 24 cores / 48 threads

Cache: 128 MB Total Cache

Socket: sTRx4

Memory Controller: Quad Channel DDR4

Maximum Thermal Design Power (TDP): 280W
Specifications:
General information
Type
CPU / Microprocessor
Market segment
Desktop
CPU Family
AMD Ryzen Threadripper
CPU Model number
3960X
Base Clock Frequency
3.8GHz / 3800 MHz
Max Turbo Speed
4.5GHz /4500MHz
Socket
Socket sTRX4 and LGA-4094
Release date
November 7, 2019 (announced on this date)
November 25, 2019 (Release into markets on this date)
Price at Release
$1399
Micro-architecture
Zen 2
Processor core
Castle Peak
Manufacturing process
0.007-micron TSMC FinFET process
Data width
64 bit
Cores in Processor
24 Cores
Threads In Processor
48 Threads
Floating Point Unit
Integrated
L1 Cache
24 x 32 KB (8way-instruction cache) (1MB Total L1 Instruction Cache)
24 x 32 KB (8way-data cache) (1MB Total L1 Data Cache)
Level 2 Cache
24 x 512 KB (12MB total L2 Cache)
Level 3 Cache
8 x 16 MB (16-way Shared cache) (128MB Total L3 Cache)
Multiprocessing
Uniprocessor
Extensions and Technologies
MMX instructions
Extensions to MMXSSE / Streaming SIMD Extensions
SSE2 / Streaming SIMD Extensions 2
SSE3 / Streaming SIMD Extensions 3
SSSE3 / Supplemental Streaming SIMD Extensions 3
SSE4 / SSE4.1 + SSE4.2 / Streaming SIMD Extensions 4
SSE4a AES / Advanced Encryption Standard instructions
AVX / Advanced Vector Extensions
AVX2 / Advanced Vector Extensions 2.0
BMI BMI1 + BMI2 / Bit Manipulation instructions
F16C / 16-bit Floating-Point conversion instructions
FMA3 / 3-operand Fused multiply-add instructions
SHA / Secure Hash Algorithm extensions
AMD64 / AMD 64-bit technology AMD-V / AMD Virtualization technology
SMT / Simultaneous MultiThreadingPrecision Boost 2
Security Features
EVP / Enhanced Virus Protection SMAP / Supervisor Mode Access PreventionSMEP / Secure Mode Execution Protection
Low power features
Pure Power
Integrated graphics
Not Available
Memory
Memory channels (total): 4
Supported memory: DDR4-3200
Max Supported Memory: 512 GB
PCI Express
PCI-Express 4.0
Maximum operating temperature
95°C
TDP
280 Watt
AMD Ryzen Threadripper 3960X Review :
Year right now in market AMD is on the peak not only limited to its latest EPYC or Threadripper processors but it's gaining people's attraction at everywhere whether it is whether limited to gaming or a workstation PC. Now we are talking about the third generation threadripper processor of AMD which is AMD Ryzen Threadripper 3960X.
The price for this processor is $1,599 right now in the market which is quite a good price for a 24 Core processor of AMD, if you wanna go for a better one then you can buy AMD ryzen threadripper 3970X but it gonna cost you $300-$400 above, like 1,999$ something. But you can just go for this AMD Ryzen Threadripper 3960X because it comes with the super pic processor which can perform you are multitasking so easily it can handle like it isn't caring a bit of burden.
Performance:
AMD Ryzen Threadripper 3960X comes with 24 cores and 48 threads which is quite a good number for this price. You can build a power-house gaming PC with this processor we have already mentioned the best suitable motherboards for this processor below so you can buy any of them and pair them with this processor. If we talk about the AMD Ryzen Threadripper 3970X then there comes with 64 Threads and 32 cores but AMD Ryzen Threadripper 3960X is cheap in price and gives more value.
Specs Details:
AMD Ryzen Threadripper 3960X is based on Zen 2 microarchitecture and comes with a socket of sTRX4 and LGA-4094. Of it was released on November 25, 2019, but it was announced on November 7, 2019, it means after 2 to 3 weeks of its announcement it got released into the market. It comes with a base clock speed of 3.8GHz and a turbo clock of 4.5 GHz which will have 24 cores and 48 threads.
Plenty Of Premium Features:
It comes with a PCI Express 4.0 and TDP of 280W and also it comes with so many premium features if we talk about the low power feature then it comes with pure power. As you know that cache is one of the most necessary components in our processor will have a good amount of cache memory then it will do work so smoothly and super fast, it has an L1 cache of 24 x 32 KB (8way-instruction cache) and 24 x 32 KB (8way-data cache) 1MB + 1MB of L1 cache in total, L2 cache of 24 x 512 KB (12MB in total) and L3 Cache of 128MB in total which is 8 x 16 MB (16-way Shared cache).
Memory and Temp:
The maximum temperature this processor can run or it can handle is 95°C. The PCI Express lanes inside this processor are 72 and the previous ones was having 64 lanes. It comes with 4 memory channels which will support DDR4-3200 and the maximum memory will be 512GB.
No Integrated Graphics:
It doesn't have any integrated graphics so if you want to do some heavy work on it you will buy an external graphics card for it.
Benchmarks For AMD Ryzen Threadripper 3960X :
Cinebench R20: ( All Cores )
Far Cry 5 (1080P)
Rise Of Tomb Rider (1080P)
Best Motherboards For AMD Ryzen Threadripper 3960X
TRX40:Gigabyte Aorus Pro WiFi
Features:
Supports 3rd Gen AMD Ryzen Threadripper Processors
Quad Channel ECC/ Non-ECC Unbuffered DDR4, 8 DIMMs
12+2 Phases Infineon Digital VRM Solution with 70A Power Stage
Advanced Thermal Design with Fins-Array Heatsink
Intel® GbE LAN with cFosSpeed Internet Accelerator
3 Ultra-Fast NVMe PCIe 4.0 x4 M.2 with Thermal Guards
Onboard Intel® WiFi 6 802.11ax 2T2R & BT 5
120dB SNR AMP-UP Audio with ALC1220-VB and WIMA Audio Capacitors
RGB FUSION 2.0 with Multi-Zone Addressable LED Light Show Design, Support Addressable LED & RGB LED Strips
Smart Fan 5 Features Multiple Temperature Sensors, Hybrid Fan Headers with FAN STOP
Front & Rear USB 3.2 Gen 2 Type-C™ Header
Q-Flash Plus Update BIOS Without Installing CPU, Memory and Graphics Card
TRX40 AORUS PRO WIFI is again at its peak nowadays because of the allegiant PCIe 4.0 Design, including PCIe 4.0 Ready PCB, PCIe 4.0 Slots, PCIe 4.0 M.2 Connectors and which will give the best performance and so much ease use for all the users and gaming lovers.
Right now in the market, this TRX40:Gigabyte Aorus Pro WiFi is the most valuable and affordable motherboard for all the AMD Threadripper processors but the price is still better than the other high-end AM4 motherboards which are available for Ryzen processors. TRX40 Gigabyte Aorus Pro comes with WiFi M.2 slots, 12+2 phase VRM design, a total of 8 RAM slots all these components and features will give ease use to all of the gamers with no complicated power issues.
ASUS ROG Zenith II Extreme
Features:
AMD TRX40 E-ATX motherboard sTRX4 for 3rd Gen Ryzen Threadripper, with 16 power stages, PCIe 4.0, Wi-Fi 6 (802.11ax), 10 Gbps Ethernet, USB3.2 Gen2x2, dual USB 3.2 front panel connector, five M.2, SATA and Aura Sync RGB
Ready for AMD 3rd Gen Ryzen™ Threadripper™ Processors: Maximize connectivity and speed with up to five M.2 drives, USB3.2 Gen2x2 and AMD StoreMI
Robust power delivery: Optimized power solution with 16 Infineon TDA21472 power stages, ProCool II power connectors, microfine alloy chokes and 10K capacitors
Comprehensive thermal design: Active-cooling VRM heatsink, PCIe-zone M.2 aluminum heatsink, backplate, Fan Extension Card II and water-cooling zone
High-performance networking: Onboard Aquantia® 10 Gbps Ethernet, Wi-Fi 6 (802.11ax) with MU-MIMO support, and GameFirst V technology
Unmatched personalization: Color OLED display and ASUS-exclusive Aura Sync RGB lighting, including two additional RGB headers and two addressable headers
Industry-leading ROG audio: SupremeFX S1220 and ESS® SABRE9018Q2C for enthusiast-grade audio performance, featuring Japanese capacitors
DIY-friendly design: Pre-mounted I/O shield, ASUS SafeSlot, BIOS FlashBack™ and FlexKey
This much powerful motherboard will surely require great cooling systems for it to be stable for a long long time, so ROG Zenith II Extreme comes with large VRM heatsinks that are just placed between the surface area and mass of the motherboard which helps in keeping all the components cool. ITs chipset-heatsink integrates an active-cooling solution which is used to keep the underlying silicon of the motherboard completely cool if there is a lot of pressure on the motherboard components too, And the airflow system helps to keep the SoC VRM cool. The extra-large heatsinks are for making the temperature of M.2 slots limited to normal.
The first thing is that the price of this motherboard is extremely high on this price we can build a complete PC for us but the thing is that this motherboard is a powerhouse itself, as we know expensive things are always having some betterment and improvements as compared to less expensive things so it will be a better option for them who can afford it.
This motherboard will be the best option for the AMD Ryzen Threadripper processors because these processors are so powerful which need more power and support to give their best performance. You can put up to 5 M.2 solid-state drives (SSD), and it also comes with USB 3.2 Gen 2 and AMD StoreMI, as well as plenty of premium components for stable operation.
MSI Creator TRX40
It comes with completely unique look and stylish design and a crystal-covered body. It has the new PCIe Generation 4 slots and M.2 connectors, USB3.2 Gen2x2, 10G LAN and Wi-Fi 6, Frozr Heatsink Design, Triple Lightning Gen4 M.2 (Double-sided) M.2 Shield Frozr, Core Boost, Audio Boost 4 with Nahimic, M.2 Xpander-Aero Gen4 card, Mystic Light.
Supports 3rd Gen AMD Ryzen Threadripper Desktop Processors for Socket sTRX4
Supports DDR4 Memory, 8 DIMMs, Quad Channel Max Frequency DDR4-4666(OC)
More Powerful than Enough: dedicate 16 phases 70A digital power to CPU, with All Aluminum Design
More Efficency for Data Transfer: 10G LAN + Intel® Gigabit LAN with Intel® WIFI 6 and bandwidth management
More Compatibility for Storage: 7 x Lightning Gen4 M.2 with M.2 XPANDER-AERO GEN4
More Flexibility for Temperature Control: Full fan control with 9 PWM fan headers and 3 dedicated thermal sensor
Lightning Fast experience: Lightning USB 20G, PCIe 4.0, Lightning Gen4 x4 M.2 with double-sided M.2 Shield Frozr, StoreMI, AMD Turbo USB 3.2 GEN2
Set Core Power Free: Extended Heatsink and Heat-pipe Design, stacked fin array, Core Boost, Digital PWM IC, dual 8 pin CPU power connectors, DDR4 Boost
Frozr Heatsink Design: Designed with the patented fan and double ball bearings to provide the best performance for creators and prosumers.
Mystic Light: 16.8 million colors / 29 effects controlled in one click. Mystic Light Extension supports RGB, Rainbow and Corsair LED strip
Audio Boost 4 with Nahimic: Reward your ears with studio grade sound quality
Multi-GPU: With Steel Armor PCI-E slots. Supports up to 3-Way NVIDIA SLI & 3-Way AMD Crossfire
This motherboard comes with so many premium features like having a 10Gb LAN, Wi-Fi 6 support, and many USB slots, a total of 8 RAM slots, 9 fan headers, 16+3 (19)phase power design, An excellent cooling setup for chipset, and it also comes with so many of expansion card slots for a further four PCIe Gen 4.0 M.2 slots.
Core Boost Technology:
This feature combines double 8 pin power connectors
which gives 2x more power to your GPUs with more
better performance than ever, Now these
components come with a complete
new look and design.
Better Memory Performance:
It comes with completely separated memory circuitry
which will make the System's stability and performance better.
Now your system won't get crashed because of power issues
while playing games with MSI DDR4 Boost.
Other AMD Threadripper Processors:
AMD Ryzen Threadripper PRO 3975WX
Hi, I'm Afaq a Gaming and Tech enthusiast Living In the United States Of America, California. I'm here to provide you with the best gaming recommendations and suggestions, also I will give detailed reviews for the best builds and components. I also review technology-related products and tell you if they are good to buy or not.