Hello friends, how are you? I hope you are fine. So, today's article is all about the Review of gaming keyboards called Corsair K55 RGB PRO XT. As we all know that Corsair is a popular brand and manufacturers and still offers desirable gaming keyboards. This gaming keyboard has many features like macro keys, Media control, RGB backlighting, etc. It looks like a high model keyboard but its price is very fair, which is $70.
View on Amazon
Quick Overview:
K55 Pro XT is a full-size large wired gaming keyboard that comes with some extra macro buttons, media keys, and with the included detachable wrist rest. It takes a bit of space for sitting on your disk. on the left side of the keyboard, there is 6 macro keys button from G1 to G6, these macro keys are completely programmable, on the top right side of the keyboard it has dedicated media control buttons for controlling basic operation volume up, down, mute, play, pause. Mechanical switches for fine and work awesomely, there is a nice tactile bump when pressing them down with some little force, and the most important thing is RGB lighting, k55 pro XT offer per-key RGB lighting, which can be customized by using Corsair Utility Engine (iCUE) software here.
Corsair K55 RGB PRO XT Full Review:
This Corsair K55 RGB PRO XT is a membrane-based Gaming Keyboard. For new gamers who don't want to spend hundreds of dollars, or they have a limited budget, or don't know much about gaming keyboard, so, this is one of the best gaming keyboards for them. Because it has almost all features that the expensive one have like wrist-rest etc.
Spec:
Key Type: Membrane
Switch Type: N/A
Illumination: Full RGB
Size: 19.0 x 6.6 x 1.4 inches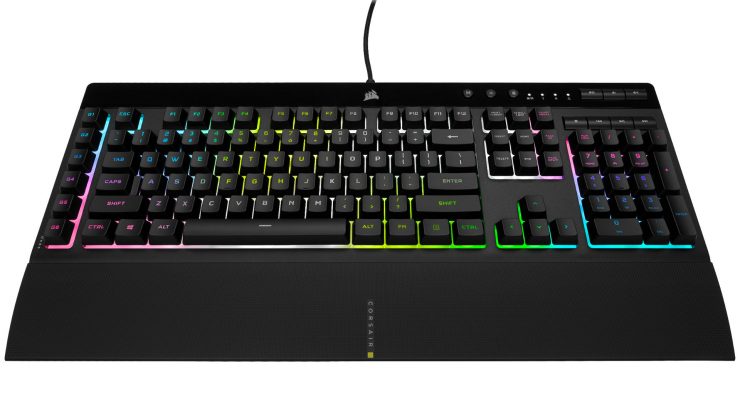 Corsair K55 RGB Pro XT is a full-size large gaming keyboard. This is because it has some extra macro keys for gaming purposes. But if we compared it with the same featured gaming keyboard like Logitech G915 which is about a full half-inch shorter. This is because it has some wasted space in the design. There is some extra space in the design, no metallic volume dial. Some important dedicated media button includes "macro recording" and "win lock" by which you can disable window keys, and other combination that can accidentally take you out of the game.
the cable is a rubber-coated cable and this is great for preventing catching on the desk. The bottom of the keyboard has rubber pads all around. With the help of which the keyboard is firmly fixed with the disk. And on which your keyboard does not move while playing the game. One downside to the keyboard is the two pop-out feet. Its feet are a bit weak. It doesn't look like it used strong plastic. But if you want, you won't have to worry about clicking back.
Detachable Wrist Rest:
k55 PRO XT is a budget gaming keyboard, but it has a lot of useful features that you get from the keyboard, one of which is a detachable wrist rest, of the corsair. and while it is just textured plastic but it works great which Supports your wrist while gaming and typing which relaxes your wrist and you can gaming or type on it for a long time
Nowadays in $50, you can get a pretty good Gaming keyboard with RGB backlighting with dedicated media controls, and macro keys with a detectable wrist-rest. Then what's the difference between both of them, Why it's expensive?.
Why pay an extra $20 if you have already other, So, the main difference between is its quality and RGB effect on each key, also it upgrades to the five-zone backlighting to each key, which means you can customize each key RGB effect by using Corsair's iCUE software
Some Other Features:
Now, this K55 RGB Pro XT keyboard has 6 macro keys on the Left in a row, that are completely programmable. these keys are easy to program for specific functions. Also, there are 3 more buttons on the top of the keyboard, which include a dedicated micro recording button, a brightness, and a window lock button (Winlock). the window lock button is used to disable all the other keys that distract you from gaming or end your game.
However, K55 RGB Pro XT provides you the functions of increasing volume, decreasing volume, and mute and provides stop, rewind, play/pause, and fast forward buttons. That will enhance your Gaming performance
The full keyboard is made up of plastic, with a nice design. the key feels
Strong(hard type) when playing games or typing, but at this price it's fine. the matte finish on most keyboards is also suitable for plastic products. Also, the connector of the old K55 has been updated, which looks beautiful and easy to remove and insert. Other features include anti-ghosting, dust-proof, spill resistance(that save user time) functions, and dedicated macro keys
key Performance:
If we talk about the keys then, this Corsair K55 RGB Pro XT gaming keyboard comes with extra keys. And can run any type of game. The key responds well while testing on some games like "Bald's Gate III", "Eternal Destruction", and Final Fantasy XIV". Keys are quickly responsive and don't stick in fast shooting games. This K55 RGB pro-XT Gaming Keyboard has macro keys. This is useful for that gaming player, who wants to perform a complex attack pattern with a single keystroke, like MMO. The key performance of this keyboard is fine.
Price:
So this keyboard has all the features according to its price. With its price and with these features this gaming keyboard is better than other keyboards. it's amazing it has all the features you need for a stunning price of $70. So if these keyboards are within your budget then you can go for them۔
Pros:
Extensive lighting options
Programmable macro keys
Excellent media controls
Cons:
Unsatisfying keys
Inefficient design
Pricier than competing models
No detachable USB cable
Some extra space in design
Hi, I'm a Tech enthusiast and a part-time gamer. I work at a gaming shop in Canada and here I can suggest to you PC Builds and PC customizations.