Important Specification Details of Intel Core I9-12900K
| | |
| --- | --- |
| CPU Information | Description |
| Socket Type | FCLGA1700 |
| Release Date | November 4, 2021 |
Basic Information of Intel Core I9
| | |
| --- | --- |
| Performance Information | Description |
| Code Name | Alder Lake |
| Integrated Graphics | Intel UHD Graphics 770 |
| Integrated Graphics Base frequency | 300 MHz |
| Turbo Speed | 5.2 GHz |
| Clock Speed | 2.0 GHz |
| Cores | 16 Cores |
| Total Threads | 24 Threads |
| Processor Base Power | 125 Watts |
| Thermal Design Power (TDP) Down | 125 Watts |
| Generation | 12th |
| Overall Rank | 45 |
| Processor Type | Desktop |
| Lithography | Intel 7 |
Processing Information of Intel Core I9
| | |
| --- | --- |
| Cache Information | Description |
| Cache | 30 MB Intel smart |
| L2 Cache | 14MB |
| L3 Cache | 30MB |
Cache Information of Intel Core I9
| | |
| --- | --- |
| Advanced Technologies | Description |
| Idle State | Present |
| Intel Turbo boost technology | 2.0 |
| Thermal monitoring | Present |
| Gaussian and Neural Accelerator | 3.0 |
| VMD | Present |
| Instruction Set | 64-bits |
Advanced technological detail of Intel Core I9
You can also buy this product or see the price of Intel Core I9-12900K by using the link below:
View On Amazon $599.99
Intel Core i9-12900K – Core i9 12th Gen Alder Lake 16-Core – Buy Now At New EGG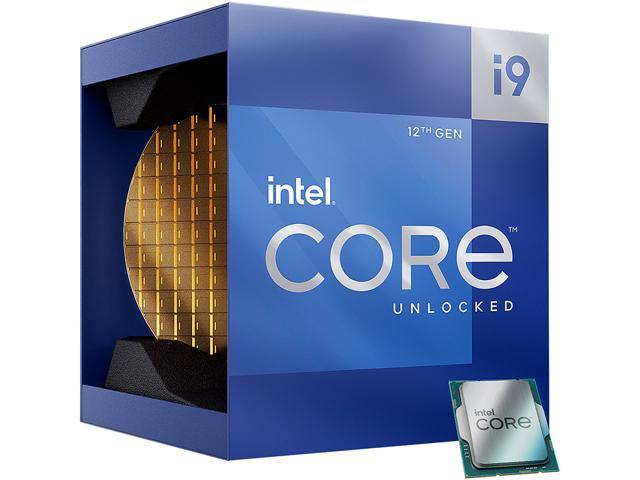 Intel Core I9 12900K Review and Benchmarks
Review Of Intel Core i9 12900K:
This article contains all information you need to know about the Intel Core I9 12900k processor i.e, its specs, review, price, and Benchmarks. Intel faces a hard time competing with AMD processors. Intel Core I9-12900K 12th-gen is worth buying a processor today if you are in the market for a high-end desktop CPU.
Good Value Compare To AMD Ryzen:
Specifically, Intel Core I9-12900K has good value over Ryzen. It's an x86 processor that is similar in design to Apple's ARM silicon in terms of both performance and efficiency cores. Intel Core I9-12900K has a hybrid architecture instead of monolithic architecture design that combines small and efficient core with high-performance newly designed cores for the optimal balance of performance to power ratio. Intel is promising the usual "world's best gaming processor" and gives 19% performance improvement than its 11th Gen chips.
Performance Details of Intel Core I9-12900K:
16 cores of Core I9-12900K processor are divided into 8 performance cores and 8 efficient cores. Max Clock speed is 5.2 GHz and 24 threads are assigned in such a way that each performance core has 2 threads and each efficiency core has one thread. Performance cores support hyper-threading and single-threaded E-cores for a total of 24 threads. This is a 33% increase in thread count over the previous-gen Core i9-11900K. The P-cores have a 3.2 GHz base, and with Turbo Boost Max 3.0 (this feature is only available on P-cores) peak frequencies reach 5.2 GHz.
Gaming Performance Advantage:
This chip has 125W PBP (base) and 241W MTP (peak) power ratings. Intel claims on average 13% generational jump in gaming performance is provided by this chip, beats AMD's Ryzen 9 5950X flagship by up to 30% in gaming, and offers up to twice the performance in content creation workloads to its predecessor.
Dynamic Memory Boost
Dynamic Memory Boost of Core i9-12900k automatically switches Desktop PCs between faster XMP settings and a slower mode for less consumption of power. PCIe and DDR5 support is also offered by Intel which means a new motherboard for 12th generation chips as it is moved on new LGA 1700 and Z690 chipset. These features also leapfrog Apple and AMD in connectivity technology and also outstrip Ryzen's core counts in mobile designs.
Best Motherboards For Intel Core i9-12900K:
ASUS ROG Maximus Z690 Hero
If you are planning to buy an Intel Core i9-12900K processor for your PC then for sure you'll need this ASUS ROG Maximus Z690 Hero motherboard to handle your powerful beast processor of intel. The VRM setup and power delivery design are exceptional, you can easily overclock your processor with this motherboard and the good thing is there will be no power issues after you do overclock. This motherboard comes with M.2 slots, PCIe 5.0 support, DDR5 RAM support, and a stylish design.
ASUS ROG Strix Z690-F Gaming
So here is the 2nd option for your choice which is this ASUS ROG Strix Z690-F Gaming motherboard and it gonna be more affordable with almost the same features as the ASUS ROG Maximus Z690 Hero motherboard, the ROG Strix Z690-F Gaming is an excellent choice. It supports PCIe 5.0, DDR5 RAM, and comes with a 16+1 power delivery design, high-quality components, 2.5Gb LAN, Wi-Fi 6E, plenty of USB ports, and an awesome design. it's in the list of one of the favorite boards for 11th Gen processors.
MSI MPG Z690 CARBON WIFI
A competitor to the ASUS ROG Strix Z690-F Gaming would be the MSI MPG Z690 CARBON WIFI. It's so similar to the ASUS ROG Strix Z690-F Gaming and comes with DDR5 RAM and PCIe 5.0 supports. You can easily overclock your processor on this mobo too but don't try to push the cores of the processor too high. It also comes with a 2.5Gb LAN port and more premium components like the above motherboards are having.
Benchmarks For Intel Core i9 12900K:
The Benchmark test of the core I9 12900k processor is shown in the figure below.
GeekBench V5 Scores:
Cinebench R20 (Multi & single Core):
Intel Official Web Page: Intel Core I9-12900K
Popular CPUs Comparisons:
Hi, I'm a girl tech and gaming enthusiast living in the United States, Texas, but belongs from Pakistan. I'm studying Software Engineering and I write tech and gaming products reviews on WePCGamer.